If you want to work with a command line FTP interface, select this option. The command line window takes the place of the file tree(s) (and the network trace if this is displayed). The menu options available also change. In command line mode, you have no toolbar, and you have the following menu options: File, Abort (while an operation is in progress); File, Exit; Options, ASCII Transfer; Options, Binary Transfer; Options, End Command Line; Help, About...; Help, Index.
To see which FTP commands are available, enter help at the command line prompt. The following shows an example of the output, but always check the latest information.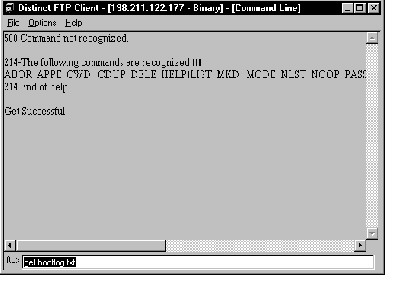 To revert to using folder trees and file lists, choose End Command Line on the Options menu.
You can exit directly from Distinct FTP Client when you are in command line mode by choosing Exit on the File menu.