You can set different View options for the upper tree and lower tree when you have two folder tree windows (Window, Two Trees enabled). Use the Upper and Lower tabs to move to the property page for the upper tree and lower tree respectively. If you have only one folder tree available (Window, One Tree enabled), then set options for this tree as upper tree options. Any lower tree options you set at this time will apply to the lower tree if you subsequently enable two trees.
You can choose to see Short or Long format file information in your file lists. The short format lists only filenames; the long format lists the file name, size, date and time of creation or last modification, and the file attributes (for local files) or authorization access rights (UNIX files). You can disable the file list column headers (Name, Size, Modified On, and Attributes) for the upper and lower file lists. To disable/enable the display of the headers, click on Column Headers. When display is enabled (as it is by default), a check mark appears to the left of the item.
It is possible to display All the files in a given folder or to get a Partial view of the folder contents by displaying only those files whose names match certain patterns. In this case you need to enter the required wildcard pattern(s) in the Wildcard(s) for partial display text box.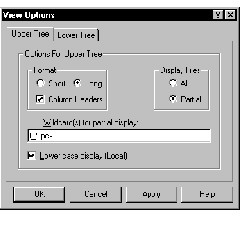 For example if you wish to view only those files with names that start with the letters "f_" and extensions that start with "p", you would enter:
f_*.p*
You can choose to display local file and folder names in lower case by checking Lower case display (Local).