You can create new subfolders on either the local system or any remote system to which you are connected, within the limitations of your authorization. To create a subfolder, select the folder that is to contain the new folder and click on the Create button in the toolbar (File, Create Folder).
The Create New Folder dialog box is displayed, for you to enter the name of the new subfolder. Type in the new folder name in the New Folder text box, then click on Create to proceed.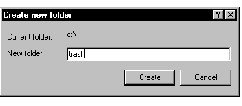 If the "Unable to create subfolder" error message is displayed when you try to create a subfolder on the remote system, you should check that you are the Owner of the parent folder and that no subdirectory with the same name exists in the current folder.
The new folder is initially displayed at the top of the subfolder tree, so that it is immediately visible, regardless of its name. This allows you to make use of your new folder without having to scroll the tree. If you fold up and then unfold the parent folder, the new folder will be in its correct alphabetic position in the subfolder tree.